Barter enables Iran-Turkmenistan gas trade
Iran will import gas worth $30bn from Turkmenistan over the next ten years in exchange for engineering goods and services of the same value.
Oil ministry representative Mohammad Taqi Amanpour said June 27 that the two countries had finalized $2.5bn of agreements, adding that more than 150 Iranian companies were active in Turkmenistan.
In March 2015, Iran and Turkmenistan signed 17 co-operation documents in economic, cultural, political, legal, scientific, and technological fields when Iran's president, Hassan Rouhani, visited Ashgabat.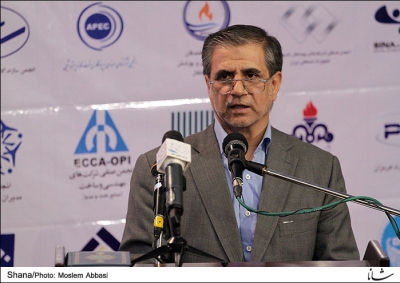 Mohammad Taqi Amanpour (image credit: Shana)
He announced at the time that the two Caspian states had decided to increase the total value of their economic exchanges from $3.7bn to $60bn ($6bn/yr) in a ten-year period.
Since then, contracts worth $1.2bn have been signed by the two countries, Amanpour said, adding that the Iranian oil ministry has so far allocated $600mn for exporting engineering goods and services to Turkmenistan.
Meanwhile, the head of Iran's trade promotion organization said June 28 that Iran exports $1bn/yr worth of goods to Turkmenistan. Valiollah Afkhami-Rad told Mehr news agency that Iran wanted a bigger presence in Turkmenistan.
He went on to say that Iran has the highest volume of exports to Turkmenistan among CIS countries. The high economic growth of Turkmenistan in recent years and its huge oil and gas reserves and the Turkmen government's special attention to Iranian industrialists are of importance. In addition, the gas barter between Iran and Turkmenistan has facilitated Iran's exports to that country.
Moreover, the head of the Iranian engineering goods and services exporters union, has said that more than $5bn worth of technical and engineering projects are expected to be implemented in the current Iranian calendar year, which ends in March 2017.
Mohammad Reza Ansari told Mehr news agency that before sanctions in 2012, Iran was carrying out technical and engineering projects in 56 countries across the world (worth $11bn/yr) but such projects declined sharply due to the sanctions. In November 2015, Rouhani received his Turkmen counterpart Gurbanguly Berdimuhamedov in Tehran.
As well as the aforementioned gas for goods deal, they also talked about possible cooperation on exploring and developing joint oil and gas fields in the Caspian Sea.
Turkmenistan was the 12th biggest importer of Iranian non-oil goods in the first three months of the current Iranian calendar year (March 20-June 20), which corresponds to spring 2016, Iran's customs office reported.
Iran exported 401.6mn metric tons (mt) of goods, valued at $141.76mn to Turkmenistan during the three-month period. Iran had exported 458mn mt of goods, valued at $188mn to Turkmenistan during the same period last year.
Iran and Turkmenistan also had talks regarding sending Turkmen gas to the Persian Gulf. However, swaps and a pipeline via Iran to the Persian Gulf will not be profitable. According to Iran's oil minister, Iran and Turkmenistan will not build a gas pipeline or swap deals to deliver Turkmen gas to Persian Gulf.
Natural Gas Europe