Turkey, Russia sign "Turkish stream" deal
Turkey and Russia signed October 10 in Istanbul the Turkish Stream natural gas project to ship more Russian gas to Turkey under the Black Sea.
Turkish energy minister Berat Albayrak and his Russian counterpart Alexander Novak agreed the terms on the sidelines of the World Energy Congress after two hours of talks that still left some grey areas to be finalised. The project will have two strands which will combined ship 31.5bn m³/yr, making it about twice the size of Gazprom's Blue Stream line, its first ever direct route to its major growth market, Turkey.
After the signing ceremony, Turkey's president Recep Tayyip Erdogan said that the deal will help to normalise strategic relations between the two countries. In a speech during the press conference, Erdogan said that the talks between two energy ministries would continue in order to finalise the project.
In return, "We lifted all imposed sanctions to Turkish goods, and agreed on discount for natural gas prices to Turkey," Russia's president Vladimir Putin told journalists, without disclosing details on the price.
He also said that Russia is ready to cooperate with Turkey in military matters and that the building of the Akkuyu nuclear power plant was also discussed during the bilateral meeting.
Turkish Stream route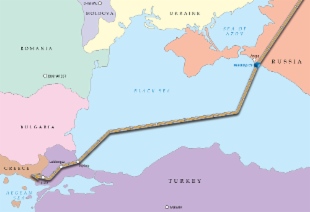 Turkish Stream was first proposed by Putin in December 2014 during in a meeting in Ankara with Erdogan after the abrupt decision to shelve South Stream, which was planned to carry Russian gas to Europe through Bulgaria.
But when Turkish armed forces shot down a Russian bomber in November 2015 over Turkish air space, the deal was forgotten and Russia imposed sanctions on Turkish imports and charter flights were stopped.
Erdogan apologised to Putin in early summer. The leaders held talks in Sochi and St. Petersburg in the last two months and trade relations have resumed.
Turkish Stream: why it matters to Russia
Turkish Stream, according to the South Stream Transport BV, the Netherlands-registered Gazprom subsidiary which is developing the project, will consist of two parallel lines, each with a capacity of 15.75bn m³/yr and each running 900 km across the Black Sea from the Russian port of Anapa. It will come ashore at Kiyikoy, in Turklsh Thrace, and then continue as an underground line to Ipsala on the border with Greece.
This will first give it, at Luleburgaz,  a connection to the existing Trans-Balkan line, which carries Russian gas down through Ukraine and the eastern Balkans to Istanbul. At Ipsala, which lies just opposite the Greek town of Kipoi, it will be in a position to connect to the planned junction at Ipsala-Kipoi of the TransAnatolian pipeline (Tanap) and TransAdriatic pipeline (TAP), adjacent links of the Southern Gas Corridor project to carry, from western Turkey onwards, some 10bn m³/yr of Azerbaijani gas to Europe.
The fact that Ipsala is specifically named as the Turkish Stream terminus holds out the possibility that Gazprom might at some stage consider bidding for space on the TAP system, which for several years from 2020 onwards is expected to have a further 10bn m³/y of capacity available for third party users.
Turkish Stream will also be the first large scale diameter pipeline ever to be laid in deep water. With an 81-cm diameter, it is smaller than the 122-cm diameter Nord Stream Pipeline, but it will be much thicker, with a 3.9 cm steel pipe wall in order to allow it to be laid at depths of up to 2,200 metres. Nordstream, by comparison, was laid at a maximum depth of just 210 metres. Blue Stream consists of two lines with capacity of 8bn m³/yr each.
Commercial sources say that the line-pipe required for both lines, originally ordered in 2014 for the abandoned South Stream project for a line from Anapa to Bulgaria, is a sunk cost: it has all been delivered and is stacked on the wharves of the Bulgarian port of Varna ready for laying on the seabed.
www.naturalgasworld.com