Norway Oil Producers Deepen Record Spending Cuts Amid Rout
Oil and gas companies in Norway cut spending forecasts for 2017, deepening what was already a record reduction in offshore investment.
The companies expect to invest 147 billion kroner ($17.2 billion) next year, down 3.6 percent from a previous estimate, according to a quarterly survey published Wednesday by Statistics Norway. They previously reduced their forecast in August.
"2017 will be yet another challenging year," Tommy Hansen, director of communications at the Norwegian Oil & Gas Association, an industry lobby group, said in a statement.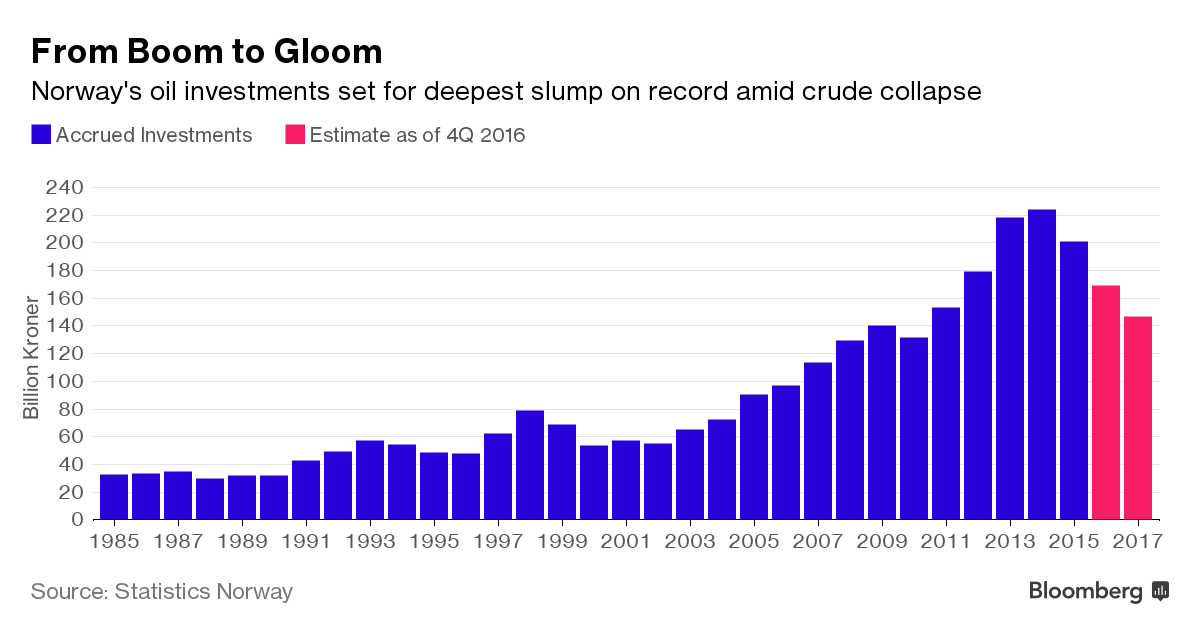 Energy companies have put exploration and development projects on hold to weather a decline in crude prices that started in 2014. In Norway, western Europe's biggest oil producer, spending is set to drop for a third year in 2017 as investors wait for the market to rebalance. Cutbacks there and elsewhere threaten to create a supply shortfall in years to come, according to consultants Wood Mackenzie Ltd.
Oil and gas investments in Norway next year will be 13 percent lower than in 2016 and 34 percent lower than a 2014 peak, the quarterly survey shows. The decline is on course to be the longest since the mid-1990s and the steepest on record.
The loss of thousands of jobs in Norway's offshore industry helped drive the country's unemployment rate to a 20-year high over the summer. While the central bank has lowered interest rates, the downturn has forced the government to make its first withdrawal from its $860 billion sovereign wealth fund this year, and persistent oil-industry sluggishness could delay an economic recovery.
"Today's investments survey signals that the oil brake will be heavier through next year," Joachim Bernhardsen, an analyst at Nordea AB, said in a note. "As such, the upswing in growth is likely to be somewhat postponed."
Statistics Norway said the reduction in planned 2017 spending was "mainly due to lower estimates for exploration and shutdown and removal," adding that exploration wells and removal projects planned for 2017 had been postponed.
Figures for accrued oil and gas investments and spending estimates were revised upward for 2013-2017 because of under-reporting, the statistics office said.
Bloomberg