Massive blast at Johor Petronas facility felt in Singapore
The impact from an explosion at a Petronas oil and gas facility in Pengerang, Johor, in the early hours of Friday (April 12), was felt in Singapore, said netizens.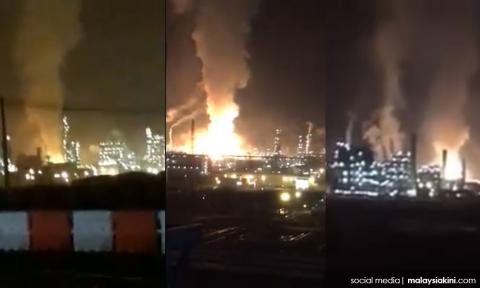 Shockwaves from the blast were felt by residents on the eastern side of the island, with users on news aggregator Reddit's Singapore page discussing the incident early on Friday morning.
The explosion and fire occurred at the Petronas Refinery and Petrochemical Integrated Development (RAPID) project in Pengerang at 1.25am on Friday, Malaysian news reports said.
Reddit user dartlee, a Loyang resident, noted that noise from the blast lasted for two to three seconds and the "windows shook for roughly the same time".
Other Reddit users also reported hearing a "loud boom" and rattling windows in areas including Pasir Ris and Punggol.
The National Environment Agency (NEA) said in a statement on Friday that it is closely monitoring the situation and the air quality in Singapore.
The 24-hr Pollutant Standards Index since 1am has been in the low-moderate range, while the 1-hr PM2.5 readings remained in Band I (Normal), said NEA.
The ambient levels of volatile organic compounds along Singapore's coast remain within safe levels, added the agency.
According to the Malay Mail, two local workers suffered minor injuries during the incident and received outpatient treatment at the RAPID Pengerang's medical emergency centre.
Kota Tinggi police chief Superintendent Ahsmon Bajah said the fire broke out at a project lot in the facility where the Petronas RAPID Pengerang Emergency Fire and Response Team (ERT) was immediately deployed.
"A total of five fire engines and 30 personnel managed to contain the blaze and later extinguish the fire at 2.15am," he said in a statement.
Mr Ahsmon said investigations to identify the cause of the explosion and fire will involve the Johor Safety, Security and Environment Committee; the District Disaster Committee; and Petronas RAPID Pengerang's safety management.
He also praised the Petronas RAPID Pengerang's ERT for their quick response to contain the incident.
According to earlier social media posts, the blast was loud enough to be heard within a 50km radius of the project.
Pictures and videos of the incident have been circulating online since 2am.
It was learnt that the explosion and subsequent fire were due to a leaking gas tank at the facility.
In a statement on Friday morning, Petronas confirmed the incident at its facility within the Pengerang Integrated Complex that the RAPID project comes under.
"Our ERT was deployed and the fire was contained within 30 minutes. The situation is under control and all relevant authorities have been informed," the state oil firm said.
It added that its management will provide additional information once investigations are done.