Russian Gas Drop Widens Discount to Markets to Most in 8 Years
Oil's plunge earlier this year dragged Russian natural gas prices in Europe to the lowest level since September 2004, making them the cheapest relative to market rates in more than eight years, as suppliers in the region face increased competition.
Pipeline fuel from Moscow-based Gazprom PJSC cost $3.99 a million British thermal units at the German border by the end of May, according to International Monetary Fund data. That's about 20 percent less than current benchmark prices in the U.K., the biggest discount since April 2008, Bloomberg calculations show.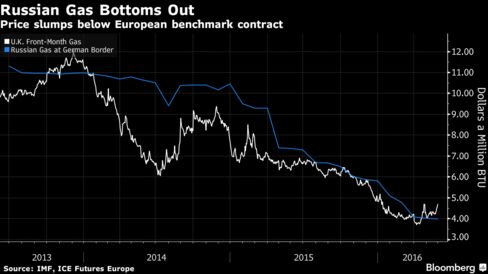 Gazprom, which meets about 30 percent of the European Union's gas needs, plans to export record volumes this year, benefiting from its cheaper supplies. Oil-linked contract prices could lose their edge as crude markets start rebalancing next year while a global gas glut may extend "well into the 2020s," the International Energy Agency saidWednesday.
 Forward prices indicate that for the next three years U.S. LNG would be "the cheapest supply option" for Europe, the IEA said in its Medium-Term Gas Market Report. That may increase tensions between Gazprom and its customers as when Russian prices became more expensive than on traded markets during a glut in 2009-2010, it said.
Gazprom Deputy Chief Executive Officer Alexander Medvedev said last week that "the second quarter will be the worst this year in terms of price." Most of the company's contracts are linked to oil with a time lag of six to nine months. The price typically doesn't change significantly within a quarter.
Bloomberg